4 Key Components To New Firm Partnership Agreements
Anchin in the News
August 28, 2018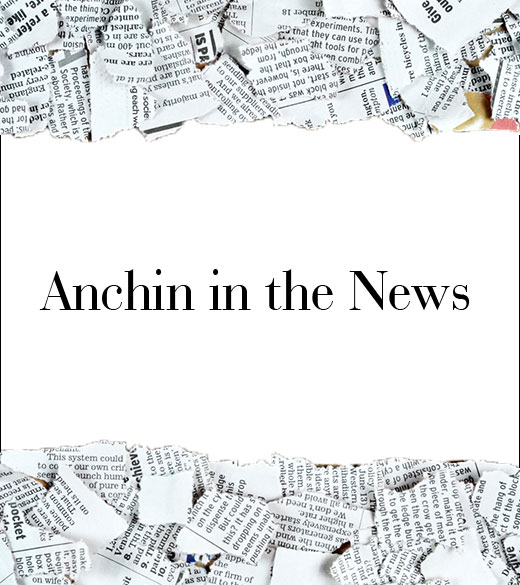 A well-drafted partnership agreement protects a law firm's founders, establishes a process for new and outgoing partners, and sets forth guidelines for navigating conflict along the way. Startup firms can begin with something less complex, but there are important elements that every agreement should include, says Partner Russell Shinsky.
It's often shocking to discover how many law firms, both big and small, neglect to address critical business issues in a partnership agreement, if they even have one in the first place.

A partnership agreement is designed to protect the interests of the founders and establish the process for new and outgoing partners going forward, among other details. All businesses should have an agreement in place that is regularly reviewed and updated. Startup firms can begin with something less complex, but in due course the document should be expanded in a thoughtful and thorough manner so that the business isn't negatively impacted down the road due to partner disagreements, partner departures or other business issues.

Here are four important elements of partnership agreements that often go overlooked.

Protecting Founding Partners and Bringing on New Leaders

As the business grows, it's important to think about how to protect and monetize the founding partners, who generally feel they are entitled to a larger share of value since they have put their blood, sweat and tears into establishing the practice.

Once the terms for founding partners are established, firms should also plan for how new partners will come aboard. There are generally three options.

First, the firm can effectively give the new partners a loan. For example, if they buy in at $100,000, the firm could hold $20,000 annually from their compensation until they are fully funded in five years. That is a policy that works well with an established, well-capitalized firm, enabling it to recruit more widely and compete for talent with firms that lack the ability to defer the cash flow from the buy-in.

Another option is for the partner to write a check for that $100,000 upfront. This option protects the existing partnership but also can create a negative experience for the associates being promoted to the firm since this option may require liquidating investments, borrowing from retirement plans or against their residences, or taking personal loans. Therefore, firms should treat this option prudently.

The least common case is that the firm sets up a credit facility with a bank, with the firm guaranteeing a loan for the new partner. This is the professional equivalent of a parent signing off on an adult child's apartment lease and walks the line between the other two options. A loan of this type is unsecured so the firm's backing can be essential to the new partner getting the loan — and at a favorable rate of interest versus a personal loan. Firms must understand that this model reduces the overall credit available to the firm for other items — e.g., lines of credit, letters of credit and long-term borrowings.

Planning for Departures

Partners will inevitably leave — for new opportunities or retirement — so clearly define the entitlements for departing partners. Do they get out what they had paid in? Do they receive a premium if they leave in good standing? Are they entitled to a run-off program where they get paid out for staying until retirement and ensuring client transition to successors?

Another component of the payout that is often ignored is the timing of when former partners are entitled to what they're owed. For example, there may be a slower payout for someone who leaves for the competitor across the street than for a partner who retired at normal retirement age or became disabled. In addition, firms must consider cash flow. It's advisable to create a ceiling or cap for payouts at any given time so that, if several partners leave in a short period of time, only a certain percentage of the firm's cash flow will be affected and the firm can still pay the current partners the current earnings.

In general, firms always want a longer payout as it eases cash management. Exceptions are either for compassionate reasons, such as paying the survivors of a partner who has died or to more quickly end a relationship that has become contentious.

In addition, firms should consider whether purchasing life insurance for top earners and originators should be a vehicle to protect the business. In the unfortunate event of a partner's death, this will also help the firm pay out the necessary capital to his or her beneficiaries in a timely manner. It is important, however, to value the contributions of each partner individually rather than making a blanket decision to insure the entire partnership. In particular, an established, well-capitalized firm may be able to self-insure most of its partners and only pay for term insurance on a small number of top rainmakers.

Minimizing Risk of Ethics Breaches

There are regularly situations where firms want to act on partners' actions — or inactions — that go against industry ethics, but haven't included strong enough language in their agreements regarding infractions and subsequent discipline. Consider including language in the agreement, or creating a supplemental disclosure statement, covering ethics issues that are important to the firm, for each partner to sign on an annual basis. For example, the partner could be required to affirm they aren't billing clients on the side, are filing and paying their taxes on time and aren't deducting expenses that are being reimbursed by the firm. Asking these ethics-related questions and documenting partners' answers will provide more protection for the firm than a general ethics clause.

A surprising number of firms avoid this topic because it is uncomfortable and the risk seems remote but that lack of planning is akin to not retaining a cybersecurity provider until after you have been hacked.

Addressing the Firm's Governance Model

A firm can have any number of partners but should designate who will govern and manage the firm. Key decisions include what the leadership structure will look like (will there be a managing partner or managing committee?), how nominations and elections will work (will there be voting and, if so, will it be closed voting?) and whether there are term limits. These models often become complicated and hotly disputed, and need to be carefully outlined in the partnership agreement to minimize conflicts down the road. After all, an accurate, strategically drawn agreement will ensure consistency, efficiency and protection for partners and the entire firm for years to come.

Partnership agreements should not be considered "set it and forget it" documents — just because a set of rules was appropriate for a young firm with all its founding partners active does not mean the firm should retain them without question. The rules for selecting a managing partner are an excellent example. Open voting, in which all partners vote publicly for members of the management committee and the managing partner, works well in young firms when everyone knows each other and there is a strong culture. It becomes problematic once firms get larger, lateral partners come on board who did not grow up in the firm's culture or are located in acquired, remote offices. Public votes encourage partners to vote for who they think will win rather than their conscience — and can lead to incumbents holding on to roles for which they are no longer suited due to the inertia that is created. At that point, a closed ballot with candidates nominated by a set number of partners may make more sense.

Another governance issue that is often discussed is whether to have term limits for management committee members or managing partners. Term limits can bring fresh blood into the management team and that can be positive, particularly during times like now when implementation of artificial intelligence and other emerging technologies can drive large changes in law firm productivity. On the other hand, law firms are complex structures and there is a lot to learn about how they run — and why they run that way — when joining the management team. Repeating the transition process into firm management more often than necessary can be a large drain on productivity.

As markets, business models and industry environments change, what may have been smart governance ten years ago might not be so today. Law firms should revisit their agreement at least every five years to determine whether anything needs to be adjusted.
Originally published by Law360.